Laboratory equipment
and reagents
Provision of equipment to build partner-laboratory sequencing and PCR screening capacities.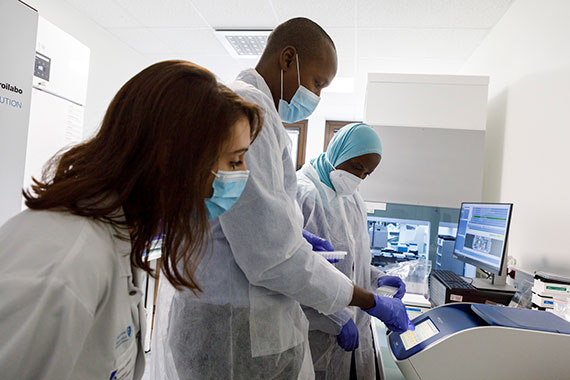 7685
Number of screening PCRs performed since January 2022
7593
Number of sequences produced since January 2022
Technological advances
The technological advances enabling real-time genome sequencing have had a significant impact on public health and the response to the pandemic.
The sharing of viral genome sequences made it possible to rapidly identify the new pathogen, SARS-CoV-2, and develop diagnostic tests and vaccines.
With large-scale genome sequencing, it is now possible to monitor the evolution of the virus, identify chains of transmission, devise countermeasures, and create new diagnostic tests and vaccines adapted to the variants. It is therefore essential to create or build the sequencing capacities and genome surveillance system in each country.
AFROSCREEN network laboratories
The AFROSCREEN network laboratories have diverse competences and capacities. Before the project began, some had no possibility of detecting genomic variants, whereas others were already regional reference centres identified by authoritative structures (World Health Organization [WHO], Africa Centres for Disease Control and Prevention [Africa CDC] and the West African Health Organization [WAHO]).
The AFROSCREEN project takes into consideration the specific needs of each laboratory and, according to what is already in place, its missions and the needs identified, reinforces the laboratory through the purchase of more suitable equipment and the necessary reagents, and through the training of teams.
There are currently two methods for detecting variants:
PCR screening, which detects variants of interest that carry known mutations and provides results in a short time (around two hours after extraction) and at an affordable cost.
Whole genome sequencing, which is used to identify known or unknown variants and to perform phylogeny studies (identification of epidemiological links between variants). This method is longer (about three days) and more expensive.
The project's objectives
The main objective of the project is for each country to be equipped with sequencing capacities and routine variant surveillance activity.
The project envisages around 150 sequencings per month and per country.
During the period in which these techniques and equipment are available, the laboratories are assisted in setting up PCR screening to detect multiple mutations of SARS-CoV-2, including those specific to the Omicron variant and which will help in the subsequent pre-selection of the samples to be sequenced as a priority.
The AFROSCREEN project also enables the deployment of external evaluation of the quality of the sequencing (and/or screening) results obtained by the various laboratories.
The project adjusts the actions to the partner structures in order to generate sustainable sequencing capacity in the respective countries, which will be used in the future to identify emerging pathogens.