Public health surveillance
and epidemiological surveys
Conduct public health surveillance and surveys to investigate the trends and epidemiological characteristics of the variants of interest.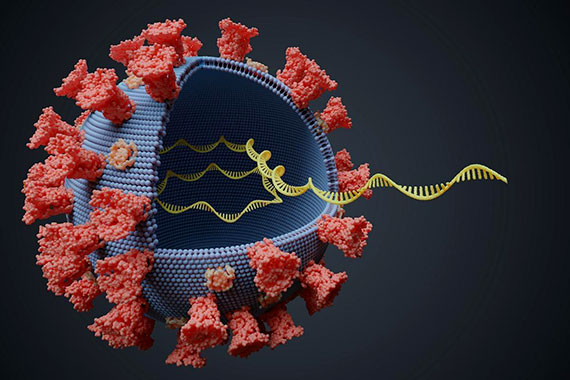 Sequencing, an important surveillance tool
Sequencing is an important surveillance tool, which must be combined with the evaluation of the phenotypic characteristics of new variants.
Indeed, some mutations of the SARS-CoV-2 genome can affect the properties of the virus and influence its transmissibility, spread, speed of replication, clinical presentation of the disease and its ability to circumvent the public health measures deployed to control it. Surveillance and surveys will therefore be conducted in order to define the characteristics of the variants of interest detected in Africa.
Three areas of intervention
In support of the national structures tasked with managing epidemics, such as the various countries' operations centres for regulation and responses to sanitary and social emergencies (CORRUS), the 'Public health surveillance and epidemiological surveys' component of AFROSCREEN includes three areas of intervention, which will be implemented in the countries of the project:
Describe the SARS-CoV-2 infection trends in terms of time, place and people by setting up sentinel surveillance
The choice of five to ten epidemiological sentinel sites per country, in connection with the respective Ministries of Health, CORRUS and existing networks (hospitals, health centres) and the collection of daily data (number of suspected cases by age, sex, sentinel site), will enable a descriptive analysis in order to describe trends over time and provide early warning to the authorities in the event of outbreaks.
An investigation will be carried out in the event of a cluster comprising a significant number of secondary cases around an initial case of Covid-19 which may suggest an increased risk of transmission.
Study the transmission factors of the new SARS-CoV-2 variants through the prospective investigation of household contacts
The epidemiological investigation will focus on household contacts of confirmed primary cases of SARS-CoV-2 VOIs/VOCs. Its aim is to determine the epidemiological parameters: secondary attack rate, reproduction number, serial interval, incubation period, duration of infectivity, proportion of asymptomatic individuals, case fatality rate, risk factors, etc.
The method is that proposed in the WHO Household transmission investigation protocol for 2019-novel coronavirus infection, with follow-up of household cases for 28 days accompanied by PCR tests and serology. The aim of this activity is to investigate at least 30 households per country, or around 300 people per country.