Training
and support
To reinforce the competences of laboratory staff through training and appropriate support.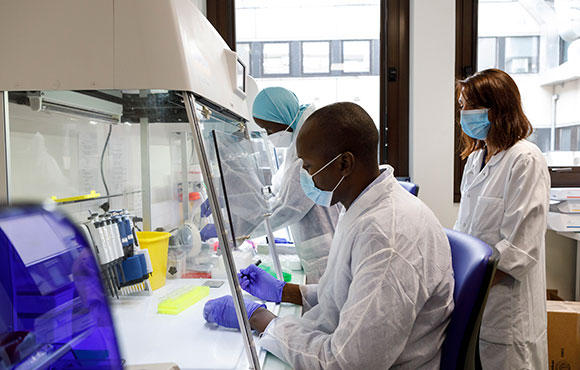 34
Number of training sessions held since July 2021
Training of laboratory personnel
A fundamental aspect when it comes to laboratory capacity building, followed by each country taking ownership of those capacities and the sustainability of laboratory services is the development of various human competences. Therefore, an important component of AFROSCREEN is the training of laboratory personnel.
Through the project, the laboratory teams such as the biologists, technicians, data managers and bioinformaticians follow appropriate training and receive support from the network partners.
Training formats
Different training formats are offered:
In-person or remote training in the use of the PCR screening kit.
Training in the reference sequencing laboratories, followed by on-site visits by experts to support the implementation of the sequencing activity and the reinforcement of the competences acquired.
Remote training in bioinformatics and analysis of sequencing data.
Remote continuing training, provided by the expert partners of the network.