Mpox genomic sequencing now possible at Centre Pasteur du Cameroun
Mpox genomic sequencing now possible at Centre Pasteur du Cameroun
The sequencing platform of the Centre Pasteur du Cameroun (CPC), set up as part of the AFROSCREEN project, will now be used beyond the analysis of SARS-CoV-2 variants.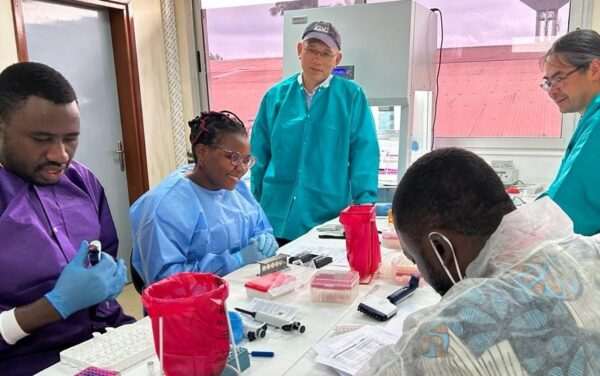 Enhanced genomic sequencing capabilities acquired during the COVID-19 pandemic are being used to analyze pathogens other than SARS-CoV-2.
In particular, training in Mpox virus sequencing, organized in July as part of the collaboration between the CPC and the CDC, has enabled us to develop new expertise in Mpox surveillance in Cameroon, useful for better informing the Ministry of Public Health in terms of genetic diversity and the potential origin of viral strains infecting the Cameroonian population.
Read the full article on the CPC website: https: //www.pasteur-yaounde.org/index.php/fr/echos-du-cpc/1040-%20variole-du-singe-le-sequencage-genomique-desormais-possible-au-centre-pasteur-du-cameroun
Back to news